Attention to every detail
FAR has everything you need to host a memorable wedding or private event: minimalistic spaces that can be dressed up or down, the freedom to serve whatever you like, and all the essentials that allow you enjoy the space as much as your guests do.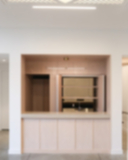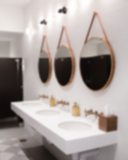 Open vendor policy
Some venues put limits on the types of food and alcohol you can serve at your event. With so much great food in Bloomington, we will never limit your choices.
Kitchen and bar access
FAR is equipped with a kitchenette and limestone bar for your caterer to set up and attend to your needs.
Tables and seating
For no additional fee, we will provide tables and seating for up to 150 guests. Standing room capacity is 200.
Restrooms
Skip the line: FAR has three spacious restrooms, including a family restroom equipped with a shower and changing table.
Indoor/​outdoor flexibility
Open the 12-foot glass garage doors to let in a breeze, or take advantage of our private deck.
Walkable to any afterparty
Fourth and Rogers is on the fringe of the downtown Bloomington square, walkable to hotels and restaurants, bars and breweries, venues and theaters. Give your guests the full Bloomington experience — and a night they won't forget.
Nearby hotels
Accommodate your out-of-town guests, with at least five hotels within walking distance to the event space.